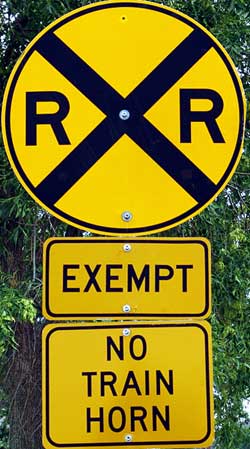 The Federal Railroad Administration's (FRA) new rules on Train Horn Use, Whistle Bans and establishment of Quiet Zones took effect June 24, 2005. The new rules have far-reaching implications beyond the railroad industry and highway motorists across the United States. State, county and local governments must meet stringent safety requirements to establish or maintain a Quiet Zone already in place. The rules also change the liability of railroads and operating employees involved in a highway-rail grade crossing collision.
The new rules (78 pages in the Federal Register) are complicated and require careful analysis and interpretation. GLOBAL TRANSPORTATION'S Safety Division has expert knowledge of the new rules and has assisted railroads, government agencies and highway departments in the design, construction and implementation of crossing signals, barriers and "supplementary safety measures" required by the rules - while holding costs at the lowest possible level. In late July Global Transportation teamed with the FRA to present an overview of the rules to railroads, rail legal counsel and insurance executives meeting in Biloxi, Mississippi. Our expertise can assist you - please contact us for details.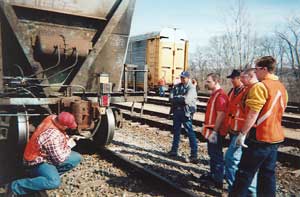 GLOBAL TRANSPORTATION is known world-wide a leader in railroad employee training, writing and presenting training courses for newly hired employees, periodic rule and safety training, locomotive engineer certification, remote control locomotive operation, track worker safety and locomotive/equipment shop safety. Our classroom and field training programs are available for both railroads and industrial operators of railroad equipment.
We're experts on all the North American operating rules as well as many international rules and have conducted courses in a number of languages. We'll tailor a course to meet your requirements. In the photo, students (in orange safety vests) learn the correct installation, arming and testing of a Pulse Electronics end-of-train telemetry device used by railroads in many countries.
Featured International Pictures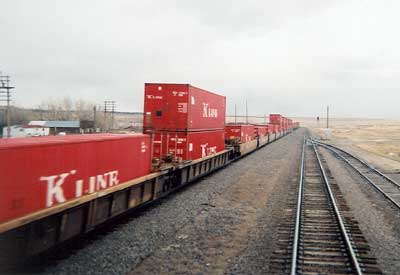 Double stack K-Line containers speed across the western United States at 70 miles per hour (120 kmh) in April, 2005. GTC photo by Charles Tuona.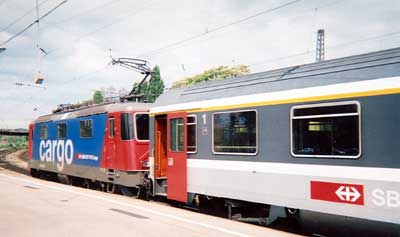 Swiss Federal Railway (SBB-CFF-FS) Class RE 4-4 general service electric locomotive in "CARGO" colour scheme prepares to leave Lindau, Germany with an express passenger train to Zurich in May, 2005. GTC photo by Forrest Van Schwartz.